Head of School Welcome Message
Welcome to the International High School of New Orleans (IHSNO).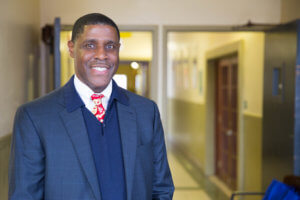 Thank you for your interest in IHSNO! Whether you are an alum following up on the growth of your alma mater and former peers, a current student checking out pictures from a recent cultural event, a parent interested in the lunch service or looking for uniform information, a prospective family looking for application and enrollment information or an educator exploring career opportunities, we hope you find this website helpful in answering most of your questions.
IHSNO was founded in 2009 by a group of parents who pursued an internationally-minded education for their children. They believed that students needed to learn to compete academically on a global scale, yet maintain their connection to the local community, thus the creation of the International High School of New Orleans.
Located in the heart of New Orleans' vibrant Central Business District (CBD), IHSNO offers a challenging and inspiring program of education to students in Grades 9-12. Accredited by the Board of Elementary and Secondary Education, we make the International Baccalaureate Diploma Programme available to all Louisiana residents, creating a truly diverse learning community. With over 40 nationalities, we offer our students a unique opportunity — an international curriculum delivered by a first-rate, committed faculty in one of the most beautiful and culturally rich areas of the United States and the world. Our vision is to inspire students to be compassionate and productive global citizens who positively impact the world.
Our scholars experience intercultural appreciation on a daily basis by being exposed to different world languages informally through their peers, or by formal language instruction. Arabic, Mandarin, French, Spanish and Vietnamese are the languages our students can choose to learn or enhance while at IHSNO.
As an accredited International Baccalaureate World School, our principles are aligned to the IB Learner Profile. We encourage and celebrate students and staff members who are Open Minded, Inquirers, Caring, Knowledgeable, Thinkers, Risk Takers, Principled, Communicators, Balanced and Reflective. Holding the values of IB, we aim to develop internationally-minded people who recognize their common humanity and shared guardianship of the planet. IB seeks to create a better and more peaceful world. Our aim as educators is to model it for our students in our work and in our relationships with other members of the school, community and beyond.
I am proud, yet humble to be part of the educational growth of our students. As an open access IB school, I believe that our greatest contribution to better the world is to provide our students with access to quality education, and support to achieve their greatest. I am honored to be entrusted with the young lives that enroll in our school and witness their growth to greatness.
Should you need further clarity on the contents of the website or have additional questions, don't hesitate in contacting us. We are an email, phone call, or a visit away.
Sincerely,
Sean Wilson
Head of School